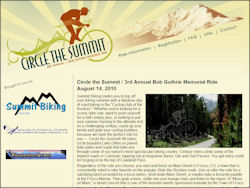 Summit Biking invites you to top off your biking summer with a fabulous day of road biking in the "Cycling Hub of the Rockies". Whether you're looking for a scenic bike ride, want to push yourself for a half century plus, or looking to put your summer training to the ultimate test on a challenging century; round up your family and grab your cycling buddies, because we have the perfect ride for you -- Circle the Summit!
All riders circle beautiful Lake Dillon on paved bike paths and roads that take you through some of our nation's most spectacular biking country. Century riders climb some of the highest roads in Colorado, topping out at Arapahoe Basin, Ute and Vail Passes. You get extra credit for forging on to the top of Loveland Pass. All rides start and finish on Frisco's historic Main Street. 21, 45, 60, and 100-mile options.
Join us after the ride for a great lunch and a beer provided by local eateries. Then, settle into your lounge chair and listen to great music. This ride is limited to 750 riders.
All proceeds are dedicated to funding improvements and expansion of the Summit County Rec Path System. Come and enjoy some of Colorado's most beautiful scenery and play a role in making Summit one of the best and safest rider destinations in our state.
Event Info:
Date
Ride
08-16-2015

Circle the Summit - Bob Guthrie Memorial Ride

-

Enjoy a ride in the mountains near Frisco, Colorado, and help complete the bike trail around Lake Dillon! 21, 45, 60, and 100-mile options.