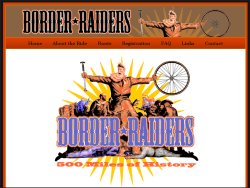 Border Raiders is an eight-day, four-state bicycle ride that is an opportunity to test your stamina, enjoy the scenic Missouri River Valley, and ride through some of the most inspiring history our country has ever known. Tour the historic places where the border wars ignited the Civil War long before the first shots were fired on Fort Sumter.
The 500-mile loop begins in Lawrence, Kansas, and will continue through Nebraska, Iowa, and Missouri before returning to Lawrence. Visit the stomping grounds of John Brown, Jim Lane and the Freestate Jayhawkers, Frank and Jesse James, Quantrill's Raiders and the Border Ruffians. See the millionaire homes of Atchison's railroad barons and visit the antebellum homes of Weston, Missouri.
A note from the organizers:
No, we are not putting on BR in 2011. BUT, we do love this ride, we believe in this ride and we're going to try our hardest to bring it back as soon as it's feasible. We appreciate everyone's interest and hope that we will be able to host BR and see you all in the future.
Note: The web site for this ride has disappeared, so presumably the event has been discontinued...
Sorry, but this listing is not currently active;
info shown is the last known data...