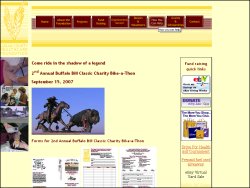 The Buffalo Bill Classic Bike-a-Thon is a 3-hour ride that allowed riders of all levels to participate. Riders are encouraged to ride as much or as little as they like and at a pace that they enjoy. Besides promoting bicycle safety, this is a charity ride to raise money for the Logan County Healthcare Foundation, through the support of local businesses, registration fees from the riders, and donations collected by the riders.
The mission of The Logan County Healthcare Foundation is to enhance local health care services by providing scholarships for medical professional, educational programs, upgrading technology and providing medical equipment. Since its creation in 1993, The Foundation has provided the Logan County health care community with over $1 million in goods and services. Your support of the Buffalo Bill Classic Charity Bike-a-Thon is greatly appreciated.
Sorry, but this listing is not currently active;
info shown is the last known data...
Event Info:
Date
Ride
09-12-2009

Buffalo Bill Classic

-

The Buffalo Bill Classic Bike-a-Thon is a 3-hour ride that allowed riders of all levels to participate in a fund-raising event for the Logan County Healthcare Foundation