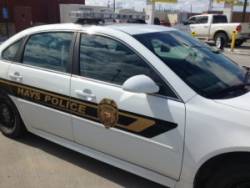 The Hays Bike Rodeo takes place in Hays, Kansas, and is hosted by the Hays Police Department and Hays Public Library, at the libary from 9:30 to 11am.
Hays officers will do inspections of bicycles, checking handlebars, seat height, brakes, reflectors etc. Officers will also license bikes, recording the make, model, serial number and other descriptors. Participants are eligible for prize drawings, including two bicycles. It's important to stay for the entire event and to be present during the prize drawing.
The library is also hosting a Bike Maintenance Workshop at 2pm, where attendees can learn things like how to patch a tube or change a chain, to help keep you rolling on through the rest of the summer and beyond. There will be door prizes to give away to attendees!
Contact: Hays Public Library at 785-625-9014, or the Hays Police Department at 785-625-1030.
Event Info:
Date
Ride
08-03-2013

Hays Bike Rodeo

-

This Bike Safety Rodeo takes place at the Hays Public Library in Hays, Kansas.