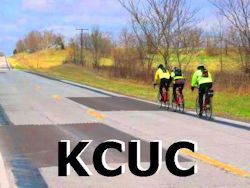 The Kansas City Ultra-Cycling Brevet Series provides opportunities for randonneurs to test their endurance with 200km, 300km, 400km, 600km, and 1000km events.
In the sport of randonneuring, a "brevet" is an organized long-distance bicycle ride. Cyclists follow a designated but unmarked route, passing through check-point controls, and must complete the course within specified time limits.
The 2013 KCUC Brevet Series schedule:
Sat. 3/23/2013, 200km -- Princeton Roundabout route, Shawnee, KS
Sat. 4/6/2013, 300km -- Oak Grove, MO to Fayette, MO
Sat. 4/27/2013, 400km -- Liberty, MO, up to Iowa and back
Fri. 5/10/2013, 600km -- Grandview, MO to Weableau, MO, via Appleton City
Sat. 5/25/2013, 1000km -- a new route from La Junta, CO
To register for a brevet, download and print the entry form and waiver from KCUC, and send it in.