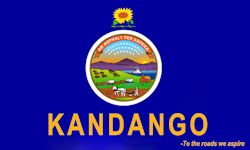 Kandango is a four-day bicycle tour on the back roads in Kansas, beginning in Hays, Kansas and ending in Junction City. Kandango is organized by cyclists who enjoy the camaraderie of fellow cyclists and the adventure of new black top and communities to discover and explore. The route is optimized for minimal traffic and maximum scenery and vistas.
The ride begins with a 26-mile out-and-back ride to Ellis, followed by a block party in Hays on Thursday night. The Friday ride begins in Hays and ends in Wilson, with stops at the Cathedral of the Plains in Victoria, Gorham, Russell, Bunker Hill, Dorrance, Lucas, and the magnificent scenery surrounding Wilson Lake, followed by a night of festivities in Wilson. The Saturday ride goes from Wilson to Abilene, with an optional century route, ending with the annual K2r Barbeque Extravaganza. Sunday's route takes riders from Abilene to Junction City, finishing with the windy twisty roads along to J Hill Road. Along the routes, riders will have opportunities to get off of their bikes and explore the local attractions. Each day's ride has a local stop every 15 to 20 miles.
The cost for the tour is $95 for all four days, or single-day passes for $40. There are additional options for transportation and camping.
Event Info:
Date
Ride
05-31-2019

Kandango

-

A four-day bicycle tour on the back roads in Kansas, through the Smoky and Flint Hills.