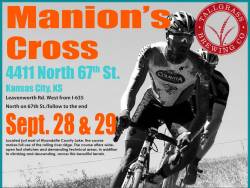 Located just east of Wyandotte County Lake, the course makes full use of the rolling river ridge found there. The 1.5 mile course offers a mix of wide-open fast stretches and demanding technical areas and will include a long decent followed by an equally long climb- something cross racers don't often get to experience. The spectacular views along the top of the ridge will allow fans to see nearly all of the race. And spectators are sure to gather around the barn to watch racers go storming through the barn on their way to the finish line.
Manions is located at 4411 North 67th Street, Kansas City, KS
Event Info:
Date
Ride
09-28-2013

Manion's Cross

-

A cyclocross race on a rolling course located near Wyandotte County Lake in Kansas City, Kansas.