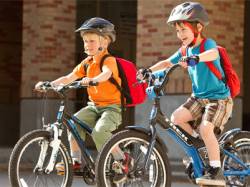 The Safe Kids Bike Rodeo takes place in McPherson, Kansas. The free event takes place from 9am - 11am in the parking lot of the First Baptist Church, 600 E. Marlin, for children ages pre-kindergarten through fifth grade.
Participants will learn bicycle safety rules, have bicycle safety inspected, and go through a helmet fitting station and an obstacle course. Older children will take a road course.
The Safe Kids Bike Rodeo is sponsored by Safe Kids McPherson County, the McPherson Police Department, McPherson EMS, the McPherson County Health Department, McPherson County Kansas Infant Development Services (MCKIDS), and the McPherson Fire Department.
Event Info:
Date
Ride
06-08-2013

McPherson Safe Kids Bike Rodeo

-

This Bike Rodeo takes place at First Baptist Church in McPherson, Kansas.