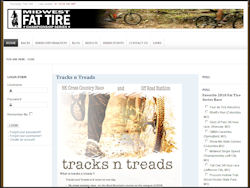 The Midwest Fat Tire Series is the longest-running series of mountain bike events in the Midwest. Races are promoted across Missouri. These races offer some of the best competition and camaraderie in the region.
The Midwest Fat Tire Series uses a point accumulation process to determine awards for overall series, and for all individual classes. The season is one calendar year. For each competition, points are awarded according to race results. At the end of the year, an awards banquet is held to celebrate the accomplishments of the season.
Races in the series include:
Le Tour de Tick, Neosho, MO - 05-01-2011
OMBA Caramba, Sac River Trails, Springfield, MO - 07-10-2011
Show-Me State Games, Rock Bridge State Park, Columbia, MO - 07-31-2011
MO Single Speed Championship, Jefferson City, MO - 08-14-2011
Tall Oak Challenge, Jefferson City, MO - 08-28-2011
Possum Hollow Chigger Digger, Knob Noster, MO - 09-25-2011
Mountain Madness, Warsaw, MO - 10-01-2011
Berryman Trail Epic, Steelville, MO - 10-22-2011
Osage Beach Holloween XC Race - Lake Ozark, MO - 10-30-2011
Sorry, but this listing is not currently active;
info shown is the last known data...