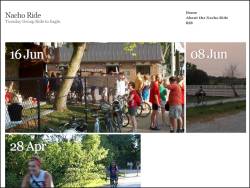 The Nacho Ride takes place each Tuesday evening on the MoPac East Recreational Trail in Lincoln, Nebraska. The Nacho Ride officially starts at the trailhead just south of 84th and O streets at 5:30 p.m., but many riders arrive early or come late. They pedal 10 miles to Eagle and stop at the One-Eyed Dog Saloon for nachos, beverages and socialization. The total round-trip distance is about 20 miles.
The Nacho Ride is held every Tuesday from May through October, and attracts a mixture of young and old riders. In addition to the weekly ride, there are also special rides throughout the year, include the Freedom Ride in July, Hawaiian Night in lat July, and the Big Red Ride in August.
Note: Unlike most of the rides listed here, the Taco Ride is a weekly event. It runs every Tuesday evening from May through October.