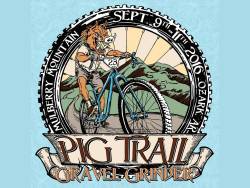 The Pig Trail Gravel Grinder at Mulberry Mountain in Ozark, Arkansas is an exhilarating cycling festival featuring challenging gravel road rides in the Ozark National Forest along with camping, live music performances, vendors, fun outdoor activities, great food and more!
The ride portion of the event will traverse a variety of gravel roads in the highly scenic Arkansas Ozark Mountains and Ozark National Forest. A gravel bike or mountain bike is recommended for this event so choose what you feel gives the best advantage. Each course provides a challenging test of each rider's strength, endurance, and self-sufficiency. All riders are fully responsible for themselves while on the course. It is highly recommended that riders be experienced and have at least one support person present that can rescue them should they need to exit the ride at anytime.
There are three separate ride courses each of a different length. The Whole Hog is the longest and most extreme course covering 72 miles with close to 8,700 feet of elevation gain, The Cob Roller is a slightly milder course coming in around 50 miles with just over 5,000 ft of elevation gain and The Shoat Ride is a shorter, yet still challenging, 22 mile course with about 2,500 ft of elevation gain.
Event Info:
Date
Ride
09-08-2017

Pig Trail Gravel Grinder

-

An exhilarating cycling festival in Ozark, Arkansas, featuring challenging gravel road rides in the Ozark National Forest. 22, 50, and 72-mile routes.