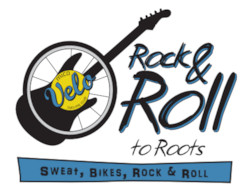 Rock & Roll to Roots is an annual ride that takes place in Paola, Kansas, as part of the Roots Festival a celebration of "a combination of deep rooted blues and bluegrass". The festival is "full of games, art, and entertainment, with some of the best live music from across the country, and some of Kansas City's best BBQ".
The Rock & Roll to Roots ride is hosted by the Miami County Velo Cycling Club (MiCoVelo), and is a 'go at your own pace' ride for all ages. The 10-mile loop takes riders around Miola Lake and back, and is suited for younger riders and families. The 20 and 40-mile rides pass through a SAG station around the half-way point, and highlight the beautiful countryside in Miami County.
All proceeds benefit Paola Pathways. The Pathways is a group of volunteers that are planning trails, bike lanes and new sidewalks for the Paola area.
Registration includes half-price entry into the Roots Festival, a tee shirt, a post-ride meal, and SAG support. Tee shirts are only guaranteed for pre-registered riders. The ride begins in downtown Paola.
The Rock & Roll to Roots ride has been cancelled for 2015.