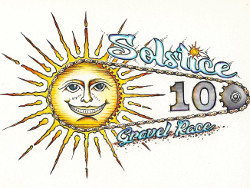 The Solstice 100 Gravel Grinder is an annual event that begins and ends in Malcolm Nebraska. The ride journeys through the communities of Raymond, Valparaiso, Loma, Brainard, Dwight, Bee, Garland and Malcolm. You will experience all kinds of gravel roads from flat to hilly and super hilly. And just because you want adventure, even a few MMR's. The field will be limited to 100 riders.
There is also a shorter option, a 50+ mile gravel grinder, called the "Solar Fiddy". But, the field will be limited to 50 riders total for the Fiddy. It will follow alot of the same roads as the southern half of the Solstice route. There will be one checkpoint at the halfway point, with limited SAG support.
Event Info:
Date
Ride
06-22-2019

Solstice 100 Gravel Grinder

-

An annual gravel road race out of Malcolm Nebraska. 50 or 100 miles.