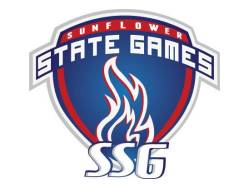 The Sunflower State Games is Kansas's largest amateur sports festival, held annually over two weekends in July at more than 30 venues. The sports offered provide a broad appeal to athletes of all ages and abilities, ranging from highly competitive Olympic sports to those that are more recreational and geared to participation. There's something for everyone!
The Sunflower State Games, organized in 1990, has become a midsummer tradition attracting thousands of Kansans to Topeka from throughout the state. The main mission of the Sunflower State Games is offering good, wholesome family-oriented activities and abundant fun. Beyond that, the organization takes pride that its competition exposes a multitude of Kansans to the benefits of physical fitness, well-being and good sportsmanship.
Cycling events at the Sunflower State Games include the
Sunflower State Games Gravel Race
and the
Sunflower State Games Road Race
.