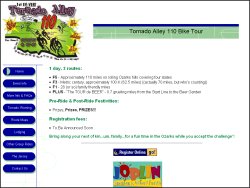 The Tornado Alley Bike Tour is an annual event that takes place each July starting in Joplin, Missouri. It is a scenic and hilly route touching four states: Missouri, Arkansas, Oklahoma and Kansas. Most of your time will be spent in Missouri and Oklahoma with brief visits to Arkansas and Kansas.
The ride offers 4 routes: 30, 50, 77, and 110 mile courses through the rolling Ozarks hills of Missouri, Arkansas, Oklahoma and Kansas.
There will be "Storm Shelters" (rest stops) approximately every 10-12 miles, with additional water stops late in the day. Complete SAG support will be furnished to take care of you if need be. After completing your ride, shower and relax and then enjoy the evening activities including drawing for various door prizes.
Note from the organizers: The Tornado Alley 110 Bike Tour has been postponed for 2011. Our long-term plans are to bring it back bigger and better in 2012. Our sincere thanks, to each and every one of you, for your loyal support of the TA 110!
Note: The ride has not occurred for several years, so presumably the event has been discontinued...
Sorry, but this listing is not currently active;
info shown is the last known data...