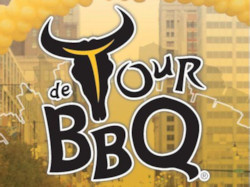 The Tour de BBQ is Kansas City's tastiest event on two wheels. It is a "tour" -- not a race -- where riders choose between routes of 15, 35, and 62 miles. What makes the event unique is that the rest stops for each route are some of Kansas City's most famous barbeque restaurants, where riders are provided a sample of that restaurant's offering. The ride begins and ends at Kansas City's Power and Light District and upon return, riders are greeted with Boulevard Beer, more barbeque and a free concert.
The event supports the University of Kansas Cancer Center and Children's Mercy Hospital by providing funds for a nurse navigator to assist adolescents battling cancer to transition from pediatric to adult oncology treatment. Since its inception in 2009, the Tour de BBQ has donated nearly $200,000 to fight cancer in Kansas City.
Event Info:
Date
Ride
09-07-2019

Tour de BBQ

-

Kansas City's tastiest event on two wheels takes you on a tour of some of Kansas City's finest barbeque restaurants, and raises money for the fight against cancer.