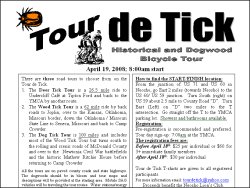 The annual Tour de Tick takes place each April in Neosho, Missouri. The event attracts bicycle riders of all ages and abilities, and offers two distances:
The Deer Tick Tour - 26.5 miles
The Wood Tick Tour - 62 miles
All routes begin and end at the Freeman Southwest Family YMCA, near Crowder College in Neosho. Mass start is at 8 am. All the tours are on paved county roads and state highways. The dogwoods should be in bloom and tour maps and descriptions are provided at the starting area. Mobile SAG vehicles will be traveling the tour routes. Water stations/energy bars will be available for the 100-mile ride.
Attractions along the routes include the "Old Scenic Route," a road built by the Work Projects Administration during the Great Depression, one of the last round barns in Missouri, the old Reddings Mill Inn and the Reddings Mill Bridge (reputed to have bullet holes in it when the Missouri Highway Patrol shot at Bonnie and Clyde), the infamous Spooklight Museum and Spooklight area, and the Netonia battlefields area.
Proceeds benefit the Neosho Lions Club. All registered riders will receive a free tee-shirt.
Sorry, but this listing is not currently active;
info shown is the last known data...
Event Info:
Date
Ride
04-30-2011

Tour de Tick

-

Enjoy the southwestern Missouri dogwoods in bloom on this annual ride that starts and ends in Neosho, Missouri. 26.5 and 62 mile options.