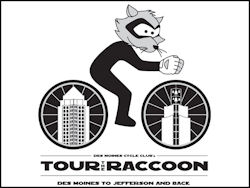 Tour the Raccoon is a two-day cycling tour that starts in the Des Moines, Iowa metro area, rides down the Raccoon River Valley Trail, overnights in Jefferson, Iowa, then returns to Des Moines the next day.
Tour the Raccoon passes through eight towns: Waukee, Adel, Redfield, Linden, Panora, Yale, Herndon, and Cooper.
The Raccoon River Valley Trail is a 56-mile-long paved trail along the branches of the beautiful Raccoon River through Greene, Guthrie and Dallas Counties of Iowa. Your trail experience will take you from a very vibrant metropolitan area out into some great small towns, which are located in one of the most productive agricultural regions of the world. Along your way you'll find the food, beverages, entertainment, scenery and ambiance that will make every visit to the RRVT a memorable one.
Sorry, but this listing is not currently active;
info shown is the last known data...
Event Info:
Date
Ride
06-08-2013

Tour the Raccoon

-

A two-day cycling tour from Des Moines, Iowa to Jefferson, Iowa, along the scenic Raccoon River Valley Trail.