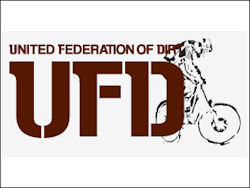 The United Federation of Dirt consists of a collective group of promoters, trail builders and racers unified in the goal of bringing dirt lovin' good times to the Missouri and Kansas region.
The United Federation of Dirt promotes traditional cross country mountain bike races divided into two leagues. The Eastern League and the Western League. The Endurance League focuses on long distance and the ability for the human spirit to suffer. The events will take place on some the best singletrack that the region has to offer.
The United Federation of Dirt also offers weekly training races known as the Short Track Dirt Crit Series in the St. Louis area and the Kansas City region, the perfect way to keep the legs a moving and the body acclimated to racing on dirt.
Races promoted by the United Federation of Dirt include:
Eastern Series:
3/31/2013 Mesa Lost Valley Luau
5/11/2013 Greensfelder Challenge- State Championship
5/19/2013 Broemmelsiek Challenge
4/28/2013 UFD Single Speed Championship
6/15/2013 Leadbelt XC
7/28/2013 Show Me State Games
8/18/2013 Cyclewerx Crankfest
8/25/2013 Rally in the Valley
9/22/2013 Rhetts Run
Western Series:
3/23/13 & 3/24/2013 God's Country @ Lawrence River Trail - Lawrence, KS
4/21/2013 OMBA Caramba @ Sac River Trails - Springfield, MO
4/28/2012 Tour De Tick
05/04/2013 & 5/5/2013 KS Fat Tire Festival @ Wilson Lake State Park - Wilson Lake, KS
05/19/13 Kansas State Championship - Dirty Little Secret @ Fancy Creek State Park - Manhattan, KS
05/26/13 Robidoux Roundup @ Krug Park - St. Joseph, MO
06/08/13 Missouri State Championship - Down and Dirty @ Warsaw Lake - Warsaw, MO
6/30/2012 Possum Scramble
7/27/2013 Sunflower State Games
7/28/2013 Show Me State Games @ Rock Island State Park - Columbia, MO
9/8/2013 Tour de Lizard @ Camp Horizon - Arkansas City, KS
9/15/2013 Possum Crank Fest
9/22/2013 Rhetts Run @ Cosmo Park - Columbia, MO
10/6/2013 Mountain Madness
For up-to-date info, please visit the UFD web site.