Explorer's Guide Kansas (Explorer's Complete)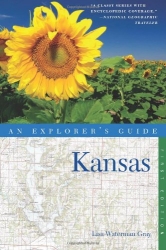 Price: $21.48
Buy Now
With Explorer's Guides, expert authors and helpful icons make it easy to locate places of extra value, family-friendly activities, and excellent restaurants and lodgings. Regional and city maps help you get around and What's Where provides a quick reference on everything from tourist attractions to off-the-beaten-track sites.
Along with Amish farms, rolling countryside, and interesting history, Kansas offers rodeos, powwows, pancake races, Renaissance fairs, and spinach festivals. Kansas is known for wheat, cattle, and wide-open spaces, but it also has day spas, boutique hotels, museums, concerts, and vital urban scenes. There's a lot to see and do here; with an insider guiding you, you can expect extras, like a detailed look at the exciting cultural centers of eastern Kansas, with their fine restaurants, nightlife, and art. There really
is
no place like Kansas! Black-and-white photographs and maps throughout
Used Book in Good Condition
By: Lisa Waterman Gray, Published 2011-06-06 by Countryman Press
Eligible for free shipping!
Certain content that appears here comes from Amazon Services LLC. This content is provided 'as is' and is subject to change or removal at any time. Pricing and availability accurate as of 2020-01-20 09:13pm CST; please follow the links for current pricing.