I purchased the Nashbar
"Deluxe Rack Trunk Bag" in September 2006 and mounted it on my Burley Django recumbent bicycle.
I selected this bag because it looked like it would have plenty of room, but primarily because it was on sale ($15.99). Since then, the bag has been on the bike full time, and has served me well.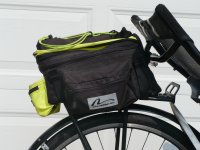 Here's what I like about this bag:
I like the color scheme: black and hi-vis yellow – it's very striking.
It has a fairly large capacity (spec'd as 717 to 905 cubic inches).
I like the hidden chamber under the lid of the bag; that's a great out-of-the-way place to store things you don't need that often, like tubes.
I like the external pockets. I used one for tools, one for snacks, and one for my cell phone and keys.
The main compartment has a single divider panel that can be moved. I normally set it up so that there's a large space (about 3/4) up front for clothing and whatnot, with a smaller space (1/4) in the rear for miscellaneous stuff such as my camera and wallet.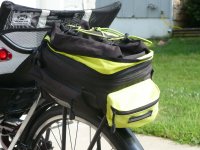 Here's what I don't like about this bag:
The sides of the bag are not rigid. Over time, especially with the internal divider removed, the bag tends to sag and collapse into a floppy, mushy mess.
The bag is too long for my rack (to be fair, this is not the bag's fault, but the fault of my mis-installed rack), and extends over the end of my rack, covering my rear reflector.
When unzipping the main compartment, it's too easy to open the expansion zipper by mistake, since they are so close to each other.
The external pockets tend to droop over the sides and end of the bag.
I think the bag's a little heavy, at 1 pound, 2 ounces.
In the end, although I love the color and the carrying capacity, I've grown to dislike the way that it flows and sags around my rack. I think it just looks sloppy, and I'd prefer a cleaner, more streamlined look. I plan to keep this bag and use it for times when I need to haul a lot of stuff, but I want to find a better, more compact bag for everyday use.
Bottom line: Decent bag for a great price.
Where to Buy
Nashbar still sells the Deluxe Rack Trunk Bag
, and the product appears to be largely the same.
Nashbar also offers Rack Trunk Bag
, which seems to be similar to the "deluxe" version, except without the side pockets.
Nashbar continues to offer excellent pricing on their products (particularly if you catch a sale), and they have a fairly liberal and robust return policy. So if you're in the market for a rack trunk bag, I think this one is still worth a long look.


See also:


Note: This review was originally published on my RecumBum blog, but I am republishing it here in order to consolidate my reviews.