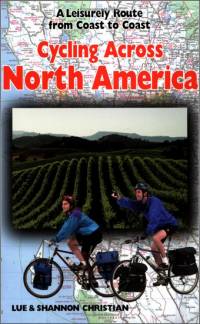 Cycling Across North America: A Leisurely Route from Coast to Coast is "the essential guide for anyone who wants to cross the American continent on a bicycle. Describes a route that's both manageable to ride and historically and scenically interesting. With detailed route maps and descriptions".
Cycling Across North America was written by Lue and Shannon Christian, about their bicycle trip from one side of the North American continent to the other. Their route follows old Route 66, as much as possible, from California to Chicago, then meanders a bit getting to the east coast. Their passage through Kansas is very brief.
Cycling Across North America was published in 2000.
Learn more: Cycling Across North America
Excerpt from Cycling Across North America
The following is a short excerpt from the book, discussing the "Route 66" route through extreme southeastern Kansas:
Four more miles on the old road gets you to the Kansas border and across this state's southeastern tip. Here, in this tiny comer of Kansas, you are just about in the center of the Bible Belt, and the people in these parts take their religion as earnestly as how they cook their meat.

One hundred years of conflict, from being in the middle of the Civil War strife to the labor problems of the lead and zinc mines, have produced a population of righteous, single-minded, honest folks with a sense of history that sets them apart. Unless you putter here and there, you're in and out of the state in short order.

Entering Baxter Springs, you see a sign welcoming visitors to the "First Cow Town in Kansas." The Baxter Inn is here, with a steak house next door and a McDonalds across the street. You pass Murphy's Restaurant, offering char-broiled steaks, Milo's Drugstore, the Silver Buckle Bar, Bill Buck's Palace, and Shirley's Place "Where Good Friends Meet."

In former times, Baxter was one of the more important cities in the tri-state district, with their profitable mining operation and springs that possessed medicinal qualities. Visitors came from far away to drink and bathe in its magical waters.

You finally find a nice shoulder east of Baxter. Remain on Route 66 after you ride through Riverton. The rollers begin again. As you enter Galena, named after a type of lead ore which often contains silver, you may want to visit the Galena Museum. It's full of the town's history and situated in an old train depot at the edge of the highway.

You pass a sign on a newer spur of the old highway reading, "Old Route 66, Next Right." This is a piece of the original U.S. 66 – a two-mile strip of unimproved two-lane road with no curb and little shoulder. The ancient road passes the old Eagle-Pitcher Company. You get back to the "New" Route 66 at around 28 miles, and in another mile you reach the Missouri border, your third state today.
This stretch of road is now part of the Route 66 Historic Byway, and is one day hoped to be part of U.S. Bicycle Route 66.