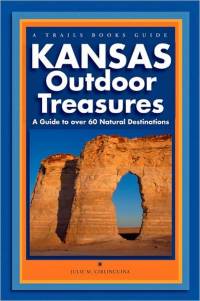 Kansas Outdoor Treasures, by Kansas native Julie Cirlincuina, is a comprehensive guidebook that explores the many natural wonders of the Sunflower State, no matter your favorite activity – hiking, biking, paddling, birding, fishing, hunting, and more.
The book also provides a guide to Kansas climate, weather, wildlife, parks and more. Detailed maps are provided for each region of the state. Learn about wooded trails and towering buttes, winding rivers, sterling lakes, breathtaking rock formations, and much more. The guide to Kansas state parks is especially comprehensive, with information about facilities, accessibility, and services at each park, as well as directions on how to find each destination.
Kansas Outdoor Treasures teaches you everything you need to know about planning an outdoor adventure in Kansas! Even if you've lived in Kansas your entire life, there is plenty to learn about little-known regions of the state.
Kansas Outdoor Treasures is a 240-page paperback guide to Kansas trails, natural areas and scenic byways. It covers 65 Natural Areas including 23 State Parks, 185 trails for hiking, biking and horseback riding, 8 Scenic Byways and 17 auto tours, 6 Nature Centers, 5 National Preserves or Wildlife Refuges, and includes 45 black-and-white photos from around the state.
Julie Cirlincuina is an active board member of the Kansas City Outdoor Club, and plans and leads day hikes and multi-sport trips to National Parks around the country. Kansas Outdoor Treasures was published by Big Earth Publishing in 2008.
Learn more: Kansas Outdoor Treasures
Note: The author of Kansas Outdoor Treasures, Julie Cirlincuina, was interviewed on Kansas Cyclist Podcast: Episode 9, where she discusses the writing and research of the book, her favorite Kansas destinations, and some surprising places to discover in the Sunflower State.