The Great Western Cattle Trail (also known as the "Dodge City Trail" and the "Old Texas Trail") carried cattle from Texas north through Oklahoma to railroad towns in western Kansas (and beyond, all the way to Canada). In its day, millions of cattle were driven north from Texas.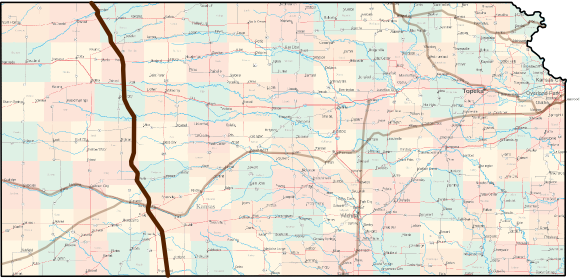 There is currently no "official" Great Western Cattle Trail Bicycle Route in Kansas, but you can follow the approximate route by following US-283 north from the Oklahoma border to Dodge City, west on US-50 to Cimarron, north on K-23 through Dighton and Hoxie, to Oblerin, then US-36 west, and K-117 north to the Nebraska state line.
Communities Along the Great Western Cattle Trail
About the Great Western Cattle Trail
The 1800's Texans were looking for a way to make a living. There were no markets for the abundant cattle abandoned during the Civil War. The demand of the cattle in the North was high and the North had already established railways to accommodate the cattle, thus the Great Western Cattle Trail was developed on the simple theory of supply and demand.

In 1874 Captain John T. Lytle and several cowboys left South Texas with 3,500 head of longhorn cattle and a remuda of saddle horses. Five years later, the route Lytle cut out of the prairie to Ft. Robinson, Nebraska, had become the most significant cattle trail in history – the Great Western Cattle Trail.

Though less well known than the Chisholm Trail, the Great Western Cattle Trail was longer in length and carried cattle for two years longer than the Chisholm. The Great Western saw over seven million cattle and horses pass through Texas and Oklahoma to the railheads in Kansas and Nebraska, therefore, developing the cattle industry as far north as Wyoming and Montana.

Traffic on the Great Western Trail began to decline in 1885 with the introduction of barbed wire. In 1893, the last large cattle drive up the Great Western crossed the Red River, headed to Deadwood, South Dakota. By this time an estimated six million cattle and one million horses had left Texas, crossing the Red River into Oklahoma, as it continued up the trail.
Read more from Along the Great Western Cattle Trail
Learn more about the Great Western Cattle Trail
See Also