For about 25 years, starting in 1841, the Oregon Trail served as a rough-hewn highway through the wilderness, connecting emigrants from Missouri to Oregon, Washington, and California. Over the years, about 500,000 people traveled 2000 miles, over 4-5 months, to reach a new home, and hopefully a better life.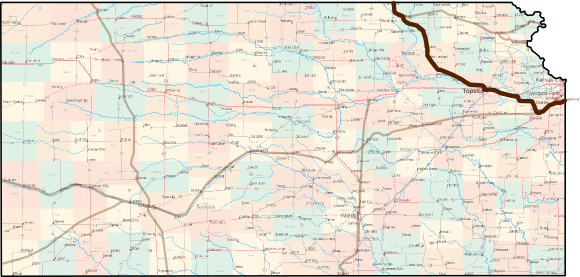 There is currently no "official" Oregon Trail Bicycle Route in Kansas, but you can follow the approximate route by following the Santa Fe Trail Route through Leawood, Olathe, and Gardner. At Gardner Crossing Park, the Oregon Trail splits off from the Santa Fe Trail and heads towards Lawrence via rural county roads. From Lawrence, the trail roughly follows US-40 highway to Topeka, then across the Kansas River to pick up US-24 headed west. At Wamego, take K-99 highway north through Westmoreland, then turn west on K-9 to Blue Rapids, north to Marysville, then west on US-36 and north on K-243 to the Nebraska state line.
The Oregon Trail has been designated a National Historic Trail, and the National Park Service provides an excellent web site that provides an Auto Tour Route Interpretive Guide with local trail history and driving directions to suggested points of interest in Kansas (most of their directions can work for bikes as well).
Communities Along the Oregon Trail in Kansas
About the Oregon Trail

In the spring of 1843, a wagon train of nearly 1,000 people organized at Independence, Missouri with plans to reach Oregon Country. Amidst an overwhelming chorus of naysayers who doubted their success, the so-called "Great Migration" made it safely to Oregon. Crucial to their success was the use of South Pass, a 12-mile wide valley that was virtually the sole place between the plains and Oregon where wagons could cross the formidable Rocky Mountains.

By 1846, thousands of emigrants who were drawn west by cheap land, patriotism or the promise of a better life found their way to Oregon Country. With so many Americans settling the region, it became obvious to the British that Oregon was no longer theirs. They ceded Oregon Country to the United States that year.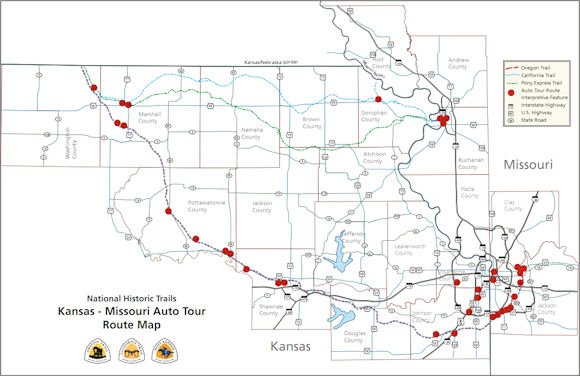 Learn more about the Oregon Trail