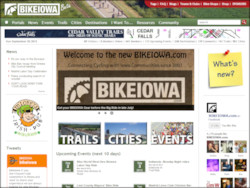 BikeIowa keeps bikers informed on rides, news advocacy and other events in the state of Iowa. It boasts a wide variety of topics for all genres of cyclists. Iowa is a great place to ride your bicycle, whether you are a recreational or sport rider, tourer or racer, Iowa has the trails and roads for you.
The ride calendar is the heart of the site. Hundreds of rides and events are added each year. Ride and event coordinators can post their own events and edit them at anytime to make sure all information is up-to-date. There are many ride/event categories to help filter your search and find the right event for you.
BikeIowa also maintains a comprehensive listing of bike clubs, bike shops, trails, and other bicycle-related links. The site also features a discussion forum and classified ads.