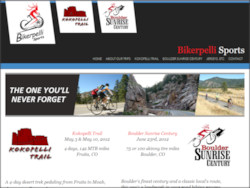 Bikerpelli Sports operates large single and multi-day cycling events in the Colorado area, and are passionate about building the most unique and enjoyable bicycle events in the state. Rides offered by Bikerpelli include:
Sunrise Century: Boulder's finest century and a classic local's route, this one's a jewel in your road biking resume. 75 or 100 skinny tire miles - Boulder, CO
Kokopelli Trail: A 4-day desert trek pedaling from Fruita to Moab, the one you'll never forget.4 days, 142 MTB miles - Fruita, CO
Needle's Eye: A classic moderate route over Rollins Pass and a great intro to our trips. Something for every skill level. 3 days, 60+ MTB miles - Winter Park, CO
Maximum Summit: Over 100 miles of pure singletrack following the Colorado Trail from Kenosha to Vail. 5 days, 120 MTB miles - Summit County, CO
Vedauwoo Jack: A high-desert traverse thru the granite moonscape of this surreal area. Beginner to advanced options. 4 days, 90 MTB miles - Vedauwoo, WY
Ride The Divide: Continental Divide Trail, Colorado Trail, and the legendary Monarch Crest descent on this 100 mi loop. 3 days, 100 MTB miles - Salida, CO
Each of their events is built from the ground up to be a perfect day of riding. Their events are the rides that they love pedaling, the ones they want others to experience for their quality.
Bikerpelli Sports
3155 Dartmouth Ave
Boulder, CO 80305
303-875-9000


Map This Location…