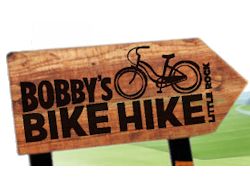 Bobby's Bike Hike is a business based in Little Rock, Arkansas that offers guided bicycle tours and rentals for a variety of interests, ages, and fitness levels.
Offered tours include the Historic Neighborhoods Bicycle Tour, Bobby's Tike Hike: Family Edition Bicycle Tour, the Pork and Bourbon Tour, and an annual Tweed Ride.
Bobby's Bike Hike also offers bicycle rentals and gently-used bikes for purchase.
Bobby's Bike Hike
400 President Clinton Ave.
Little Rock, Arkansas 72201
501-613-7001


Map This Location…