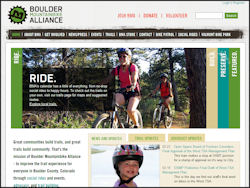 The Boulder Mountainbike Alliance exists to serve as a positive voice for mountain biking by making the trails in Boulder County, Colorado a better place for all users.
The Boulder Mountainbike Alliance was founded in 1991 as the Boulder Offroad Alliance (BOA). In 2006 the organization's name was changed to the Boulder Mountainbike Alliance to more accurately describe their focus and mission. They design, build, and maintain trails for land management agencies in Boulder County.
They operate the BMA Bike Patrol in conjunction with land management agencies to support and educate trail users about appropriate trail use.