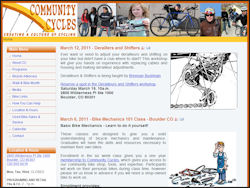 Community Cycles is a non-profit organization of bicycle enthusiasts in Boulder, Colorado whose mission is to educate and advocate for the safe use of bicycles as an affordable, viable and sustainable means of transportation and personal enjoyment within their community.
Community Cycles provides re-cycled bikes and a welcoming space to learn about bicycle repair, maintenance and operation through outreach and advocacy activities. Their aim is to recycle bikes from the local community, make them reliable again and get them back out to low income and/ or high needs members of the community.
Community Cycles is also an advocacy voice for cyclists in Boulder County, working with local, state and federal government, as well as businesses and neighborhoods, for better access to bike parking, transit, and trails. Community Cycles represents cyclists in local and regional planning and works to insure that new construction is bicycle friendly and that existing roads, schools, workplaces and shopping centers are re-envisioned to be safe for bicycles.
Community Cycles
2805 Wilderness Place Suite 1000
Boulder CO, 80301
720-565-6019


Map This Location…