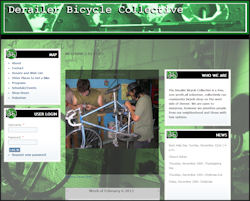 The Derailer Bicycle Collective is a free, non-profit, collectively run community bicycle shop on the west side of Denver, Colorado. They offer FREE parts, frames, use of tools, and knowledge in repairing or building up just about any kind of bike for any kind of person. They are open to everyone, however they prioritize people from the neighborhood and those with few options. Also, while everything is free of charge, you do the work on your own bike with the help of a volunteer mechanic.
Because they believe bicycles are the most affordable, sustainable, efficient, healthy, environmentally friendly, fun, and liberating form of transportation and recreation, the Derailer Bicycle Collective aims to teach and share knowledge about bikes and bike maintenance to anyone and everyone.
The Derailer Bicycle Collective runs entirely from donations and community support. If you would like to donate bicycles or parts to Derailer, visit their web site for instruction on how to do so.
Derailer Bicycle Collective
411 Lipan St.
Denver, CO 80204
303-893-0305


Map This Location…