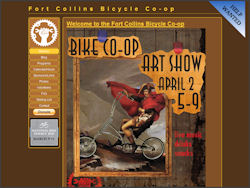 The mission of the Fort Collins Bicycle Co-op is "Building Community Through Bicycling". The group is made up of bicycle-friendly folks who volunteer at, support, or even just admire the Fort Collins Bicycle Co-op.
The Co-op is located in sunny and uber-bike friendly Fort Collins, Colorado. They keep as many happy bikers on the road as possible by allowing people to earn bikes and also work on their own rides in their well-stocked shop. They also build and maintain the Bike Library fleet for Fort Collins and handle all recovered bikes for the Fort Collins Police.
The community donates bikes and parts, the Co-op helps get the bikes running, then gives the bikes away to non-profit or for volunteered time. They also provide tools and know-how to anyone that wants it. Their goals are to keep the community riding, including those who can't afford to buy a bike, to educate their neighbors in all things bike-related including bike maintenance, bicycle education and safety, to keep good bikes out of the landfill and to recycle poorly built or unsafe bikes, and to refurbish and donate bicycles for a wide variety of charity events and programs for those in need.
Fort Collins Bicycle Co-op
331 North College Avenue
Fort Collins, CO 80524
970-484-3804


Map This Location…