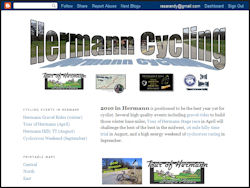 Hermann, MO Area Cycling is a web site created to assist cyclists of all abilities enjoy what Hermann, Missouri has to offer the cycling community.
Hermann roads and trails are some of the finest in the area with awesome views and challenging hills, with minimal traffic.
You will find on this site several routes to chose from that will help you plan whatever type of ride you are in the mood for. Routes posted range from a leisurely ride on the Katy Trail, to a leg burning hill ride up and over some of the areas most challenging roads.