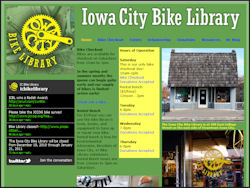 The Iowa City Bike Library checks out bikes to the public in an effort to put more people on bikes and reduce auto traffic congestion. The main goals of the Bike Library are to:
Put more people on bicycles
Expand transportation options
Reduce auto traffic congestion
Provide the general health benefits that accompany cycling
Create a hub for bike advocacy
Bikes are available to check out for six-month periods. Deposits vary based upon the type and condition of the bike. If you return the bike within 6 months, your deposit is returned minus damages beyond normal wear. If you decide to keep the bike, the Bike Library automatically keeps your deposit after the 6-month due date, and that money is used to purchase parts and equipment to keep this community bike project operating.
Iowa City Bike Library
408 E College Street
Iowa City, IA 52240