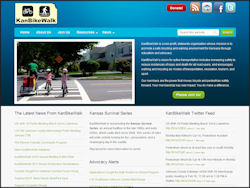 KanBikeWalk is a non-profit, statewide organization whose mission is to promote a safe bicycling and walking environment for Kansans through education and advocacy.
KanBikeWalk's vision for active transportation includes increasing safety to reduce incidences of injury and death for all road users, and encourages walking and bicycling as modes of transportation, recreation, tourism, and sport.
Our members are the power that moves bicycle and pedestrian safety forward. Your membership has real impact. You do make a difference. Please join us.
KanBikeWalk disbanded in late 2016.
Sorry, but this listing is not currently active;
info shown is the last known data...