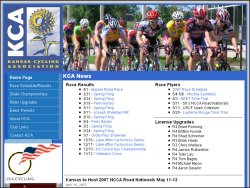 The mission of the Kansas Cycling Association (KCA) is to promote and support bicycling at every level of the sport. The KCA is responsible for the administration of all USACycling (USAC) races in the state of Kansas. All state championship events are overseen by the KCA.
The KCA, through USAC, sanctions road, track, mountain bike and cyclo-cross events and assists promoters with numerous tools to facilitate a smooth running race. The KCA also supports and facilitates USA Cycling certification programs for officials, coaches and mechanics, as well as supporting athlete development opportunities and programs with the guidance and assistance of USA Cycling.
The KCA also maintains a list of all Kansas races and results.