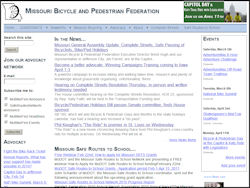 The Missouri Bicycle Federation is a statewide, not-for-profit, membership organization that advocates advancement of bicycling access, safety and education in Missouri. The mission of the Missouri Bicycle Federation is to provide an advocacy platform to protect the rights and interests of bicyclists and to make Missouri a better place to ride a bicycle through the advancement of bicycle access, safety and education.
The Missouri Bicycle Federation publishes an online blog and a newsletter featuring bicycle-related news stories from around the region. Their web site also includes a directory of Missouri bicycle shops and clubs, a ride calendar, and information about Missouri routes and trails.
The Missouri Bicycle Federation also sponsors the annual BikeMO ride that takes place each October and which serves as a fundraiser for the group.