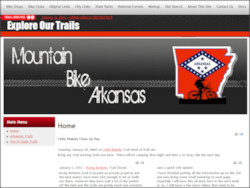 Mountain Bike Arkansas contains all the information you will need to start planning your next mountain bike trip to Arkansas. Arkansas is loaded with trails for all experience levels. The trails are located all over the state so that no matter where you are coming from you can find a trail to your liking.
The site contains comprehensive information on mountain bike trails throughout the state, including commentaries, maps, GPS waypoints, GPS profiles, pictures, and videos of the trails. There is also information on the local area for each trail to make your visit more enjoyable.
Whether you're an Arkansas resident looking for places to ride close to home, or a visitor to the state, this web site will tell you what you need to know to find your next Arkansas adventure.