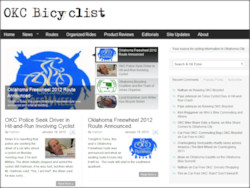 OKC Bicyclist is your source for cycling information in Oklahoma City, Oklahoma. OKC Bicyclist's mission is to provide the most up-to-date information on events, routes, equipment and general news about cycling, and to help build a community for the cyclists of Oklahoma City through their forums and events.
OKC Bicyclist is run by Nathan (aka RadicalWacko):
As a kid I was an avid cyclist here in Oklahoma City doing Freewheel numerous times along with many other organized and unorganized rides. When I left OKC for Chicago, I took my bike with me and enjoyed the wonderful speed that only a state as flat as Illinois can provide. However, when I returned to OKC in 2002, I quit riding for reasons I can't possibly explain. Now, six years later and many pounds heavier I'm eagerly returning to cycling. While Oklahoma City is certainly much more cyclist friendly than it used to, we still have a long way to go and I want to help the process by providing a centralized location for cyclist information here in Oklahoma City. Maybe someday we can stop being in the bottom 10 cities for bicycle commuting.