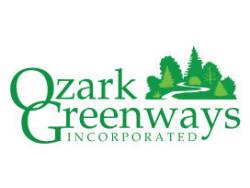 Ozark Greenways is a non-profit group of private citizens in the greater Springfield, Missouri area who work to preserve and enhance the Ozarks' natural heritage for public use and enjoyment. Ozark Greenways works closely with private land owners, developers and governmental entities to make greenways a reality. Planning, fund-raising, right-of-way acquisition, maintenance, urban forestry and public education are all activities of Ozark Greenways.
Greenways are linear parks which preserve undeveloped ribbons of natural habitat, usually through urban areas. Greenways typically follow stream corridors or abandoned railroad rights-of-way. Hard surfaced paths with minimal grade provide access to walkers, runners, bicyclists, in-line skaters, wheelchairs and baby strollers.
Ozark Greenways also sponsors the annual Bike, Bus, Walk Week Challenge in Springfield, during the third week of May. The goal is to show people that leaving their car behind once in a while (or even on a regular basis) isn't as hard as one might think in a community like Springfield, where a whole network of greenway trails and on-street bike routes is developing.