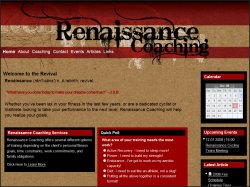 Renaissance Coaching is a full-service personal training and cycling coaching service based in Prairie Village, Kansas. Whether you're seeking to reshape your body, reaching for a personal best on the bike, or wanting to take your current cycling skills to the next level, Renaissance Coaching can help you achieve your goals.
Renaissance Coaching was founded by Jef Bishop, a National Academy of Sports Medicine Certified Personal Trainer and a USA Cycling Coach. He offers a wide array of coaching services that feature one-on-one attention. He understands the time and commitment it takes to reach your athletic goals -- four years ago he was 80 pounds heavier and suffered from severe health problems. Now in the best shape of his life, Jef wants to help his clients achieve their personal best in the gym, on the bike, and in life.
Personal training and cycling coaching fees are very reasonable. Jef is available for one-on-one consultations by appointment.
Renaissance Coaching, LLC
2821 W 74th St
Prairie-Village , KS 66208
913-558-1142


Map This Location…
Note: The original web site for Renaissance Coaching (renaissancecoachingllc.com) has disappeared; the link leads to an archive copy.