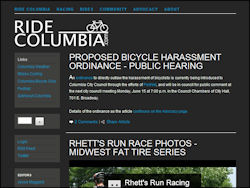 Ride Columbia is a community web site dedicated to supporting and promoting all types of bicycling in Columbia, Missouri. From roadies on high-mileage odysseys, to the commuter heading to work or the store, or the fat tire rider getting muddy on their favorite trail, RideColumbia is there to support you.
Ride Columbia also covers bicycling advocacy and bicycling news in Columbia and central Missouri.
Note: The Ride Columbia web site appears to be no longer active.