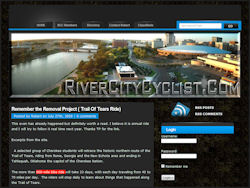 River City Cyclist is a personal blog detailing experiences while cycling in Wichita, Kansas. Robert runs the site, but welcomes contributors to discuss the bicycling scene in the Wichita area. Robert has this to say about the site:
I try to ride as often as possible and enjoy it. I started this site to share my love for cycling and hopefully build a local community online who wants to do the same.
Note: The original web site for River City Cyclist (rivercitycyclist.com) has disappeared; the link leads to an archive copy.