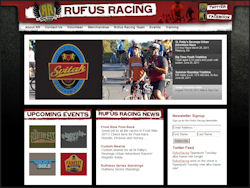 Rufus Racing is a multi-sport event management company that presents cycling, triathlon, running, duathlon, youth events, adventure racing and other sporting events in southwestern Missouri and the surrounding areas.
Rufus Racing is run by Ruth Sawkins, who is an ACSM (American College of Sports Medicine) certified personal trainer and offers group and individual training so that everyone can participate. Her main passion is to introduce people to multi-sport, teaching swimming, transitions, nutrition, and just giving the encouragement to let people know anyone can participate in multi-sport. Sawkins herself is an avid triathlete, racing since 17.
Events managed by Rufus Racing include the Svitak Freedom Ride, as well as numerous duathlons, triathlons, and adventure races.
Rufus Racing Event Production
PO Box 1204
Joplin, MO 64802
214-872-6029


Map This Location…