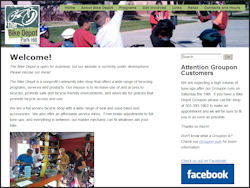 Each year, The Bike Depot in Denver, Colorado takes in hundreds of bikes from people like you, whips them into shape, and finds them a new home in the community. They'd love to help your old bike make someone very happy. They accept bikes in any condition; parts and accessories too. They are committed to recycling, so if it can't be used, it will be recycled if at all possible.
The Bike Depot offers tune-up and repair services, refurbished bikes of all types and sizes, new and used parts and accessories, and advice of all varieties.
The Bike Depot is not able to pick up bicycles, but in special situations, they can get volunteers to pick up your bikes if you have 10 or more in one location. All donations are tax-deductible. The Bike Depot also has a wide array of opportunities for you to help out. Of course, there's always wrenching to be done, but there's also a need for general office help, database entry, cleaning, organizing, marketing, fundraising, event planning, etc. If you've got some time, they can put it to good use!
The Bike Depot
2825 Fairfax Street
Denver, CO 80207
303-393-1963


Map This Location…