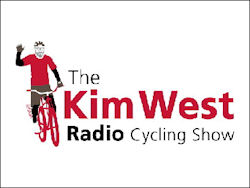 The Kim West Radio Cycling Show is a weekly radio program on KXNO AM 1460 in Des Moines, Iowa. The show covers all aspects of cycling, including amateur and professional racing, safety and advocacy, and recreational bicycling, with a special focus on Iowa events. The show has a devoted local following, as well as fans from all over who listen to the podcast version.
The show is hosted by Kim West, who is a tireless bicycling advocate and promoter, a longtime RAGBRAI rider, and an accomplished bicycle racer, racing since 1983 and currently riding at Cat 1 level for the All9Yards Cycling Team. He's the 2009 Midwest Marathon Gravel Road Race Grand Master Champion, and earned Iowa's 50+ Age Group Rider of the Year award in 2009.
Kim West was interviewed on Kansas Cyclist Podcast Episode 14.