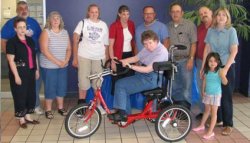 The fun and freedom of riding your own bike is something everyone should be able to enjoy. Now, thanks to the AmTryke therapeutic tricycle, even individuals who are unable to operate a traditional bike can finally realize this wonderful experience.
AmTrykes are provided by AMBUCS, a national non-profit service organization dedicated to creating mobility and independence for people with disabilities. Individual AMBUCS chapters donate AmTrykes to individuals in their communities who are unable to ride traditional bikes.
There are AMBUCS chapters in communities throughout Kansas. Recently, the Dodge City AMBUCS presented an AmTryke to a local woman named Julie Lewis:
Julie will be 50 years old this month. She was born a normal child June 27, 1958. At three months old, Julie received her "3-in-1" shots. Unfortunately, Julie then suffered a severe fever that led to convulsions and eventually some brain blockage. This event caused Julie to have seizures that she would have to battle for the rest of her life. Julie has the ability to learn, but she has some difficulty using what she learns in a functional way.

When her parents, Jr. and Nell Lewis, saw the adult AmTryke, they knew it would provide Julie more exercise and the ability to be mobile for longer times and distances.

When Julie saw the group of AMBUCS members and the new AmTryke, she became elated. She could hardly sit still while the bike was adjusted to a perfect fit. After a test ride, Julie said, "OK, I'll take it!"

Nell reports that she has lost several pounds trying to keep up with Julie. Julie is currently riding her bike 1 1/2 miles at a time and she would like to go more each time, but Mom cannot keep up!
Congratulations to Julie on her new trike! And thank you to AMBUCS, and the local Dodge City chapter, for seeing the need, and providing such a wonderful gift to improve people's lives.
The unique AmTryke tricycles, which can be hand and/or foot operated, are designed to accommodate riders of all ages, sizes, and varying degrees of physical limitations. Both physical and occupational therapists acknowledge the AmTryke tricycle's many therapeutic benefits, citing improved motor skills, strength development and self-esteem.
If you know of someone who would benefit from an AmTryke, you may speak to any AMBUCS member (there are chapters in communities throughout Kansas) or you can call AMBUCS directly at 800-838-1845.
And if you'd like to help purchase an AmTryke for a needy individual, check out the AmTryke Wish List and find someone you can help in your area.
Learn more: Dodge City AMBUCS presents AmTryke from the Dodge City Daily Globe.
Photo courtesy Dodge City Daily Globe.