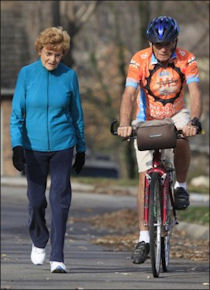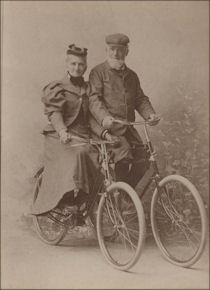 Here's an interesting look at two stories of people riding bikes well into their retirement years.
The photo on the left is Rita and Joe Spradlin of Lawrence, Kansas, who were recently profiled in the Lawrence Journal-World (Down the road: Couple's exercise regimen keeps them moving in retirement). Rita is 79, and walks four to six miles a day. Joe is 80, and rides his bike 30 miles per day.
The photo on the left is courtesy of Kansas Memory, from the archives of the Kansas State Historical Society. We don't have a back story to go along with it, except that the photo caption says it's Mr. and Mrs. George Hackney of Topeka, Kansas, sometime between 1900 and 1905.
Both couples look healthy and happy.
Joe, who call himself and Rita "exercise nuts", says that beyond physical conditioning and the ability to eat and drink more, he sees real benefits from his love of riding. "I don't need Zoloft or Prozac," Joe says. "Biking is very good for my mental health. And I notice that when I don't bike, I become a little bit more irritable, lay around more and just (have) minor symptoms of depression."
I wonder if the Hackneys would have considered themselves "exercise nuts"?
Of course, we don't know if the Hackneys even rode the bikes. They could have been mere props for a portrait photo. But it doesn't look that way to me. It appears to me that they were both comfortable on the bikes, and that the bikes were a part of their daily lives. At least I like to think so.