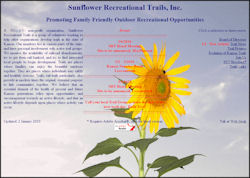 Sunflower Recreational Trails puts out a great little newsletter filled with tidbits of news and information about rail-trails, hiking trails, mountain bike trails, and multi-use paths in Kansas. The newsletter is published on their web site, and distributed to email subscribers. Publication is somewhat irregular, usually once a month, but sometimes more or less, depending on what's going on.
I've been receiving this via email for some time, and occasionally passing along news here on Kansas Cyclist, but I'd like to see the group and their newsletter get wider exposure. To that end, I proposed to Clark Coan, the newsletter's editor, that I re-publish the trail news here on Kansas Cyclist, and then push it out to my followers on Twitter and Facebook, with the purpose being to get their newsletter in front of more people who are interested in trails in Kansas.
Clark graciously agreed, and so that's what we're going to do, starting with the last newsletter of 2009 (here).
So look for the Kansas Trail News on Kansas Cyclist, starting today!
And, if you have any trail news you'd like to share, please pass it along, either to me, or to Clark Coan directly. And if you appreciate the great trails in Kansas, be sure to support their work with your generous donations; all contributions to Sunflower Recreational Trails are tax-deductible.
Post tags: Kansas Trail News