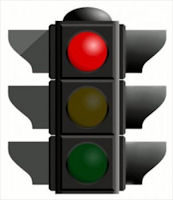 In addition to the proposed 3-Foot Passing Bill that has been introduced into the Kansas legislature, there is another bill of interest making it's way through the Committee on Transportation.
House Bill 2058 (HB2058), "Establishing conditions when motorcylists may proceed through red traffic signals", was introduced on January 24th, and was recommended by the Committee on Transportation on February 15th.
Originally, the bill only covered motorcyclists, but was amended in committee to include bicyclists as well.
Here's the proposed statute:
The driver of a motorcycle or a person riding a bicycle facing any steady red signal, which fails to change to a green light within a reasonable period of time because of a signal malfunction or because the signal has failed to detect the arrival of the motorcycle or bicycle because of its size or weight, shall have the right to proceed subject to the rules stated herein. After stopping, the driver or rider shall yield the right-of-way to any vehicle in the intersection or approaching on another roadway so closely as to constitute an immediate hazard during the time such driver or rider is moving across or within the intersection or junction of roadways. Such motorcycle or bicycle traffic shall yield the rightof-way to pedestrians lawfully within an adjacent crosswalk and to other traffic lawfully using the intersection. [see full bill]
Here's some coverage of the committee hearing from the Wichita Eagle:
Rider Tim Farr said that late at night or when there's a lull in traffic, "you either sit there forever or you just run the light. There's no way around it."

The Dead Red bill would change state law to allow cyclists to ride through a red light after waiting a reasonable length of time for the light to change, provided they proceed in a safe manner.

"This is a very common issue we are facing and it is statewide, not just in Topeka," said rider Tony McClelland.

No opponents testified in person at the hearing, but the riders have some powerful adversaries. The Kansas Association of Chiefs of Police and the Kansas Peace Officers' Association filed written testimony opposing the bill.

"Adding this provision to the red light statute will create a debate in court when a citation is issued on a stop and go red light violation, even when ultimately the signal cycles as designed," said the testimony filed by Ed Klumpp, legislative committee chair for the police chiefs and legislative liaison for the peace officers. "What is a reasonable time period will be debatable as well."

The police organizations said it should be left to the officers.

"There are many issues in traffic enforcement requiring officer discretion and the consideration of unusual circumstances," Klumpp wrote. "We should not attempt to codify all of these deviations. We strongly urge you not to move this bill forward."

The motorcyclists said officer discretion is well and good, but inconsistent.

Ron Vauter of Salina said his experience is that out of 10 officers, eight would probably be OK with cyclists driving through frozen lights, while two would go by the book.

"Then you've got to go to court and prove you're innocent," he said.

Members of the committee seemed sympathetic to the cyclists' plight.
Additional coverage:
Judging by the comments on these articles, a lot of people have strong feelings about this issue. Drivers seem miffed that cyclists might "get away with" something that they'd be ticketed for.
That's a legitimate concern, but it's doubtful that these drivers have ever sat at a red light that doesn't work for them. It happens to motorcyclists on a regular basis, and to bicyclists even more often.
When you're trying to do your best to follow the letter of the law, it's infuriating to be foiled by a malfunctioning traffic signal, whether that's due to a design defect, poor installation, or mis-adjustment.
Short of allocating a huge sum of money to all the municipalities in the state to fix their defective equipment, this bill is a common-sense approach to dealing with the problem.
Post tags: Dead Red